Feel Good Moments during COVID-19
So much time spent refreshing our news apps and checking social media can make this really feel like a scary moment in history. Grocery stores are running out of food as if the world is ending (and don't even get us started about the toilet paper fiends). Concerts and festivals have transformed into virtual parties.
We're not trying to sugarcoat the fact that it is scary. But in moments of anxiety, panic and fear, there are also moments that emerge to show us the goodness of humanity. Small acts of kindness, funny reminders of the absurdity of it all, beautiful moments in nature…all of it comes together to remind us of just how connected we all are to each other and to the Earth we inhabit.
Here's just a few of the positive outcomes of COVID-19, but we'd love to hear from you guys with any others you hear about along the way.
Cleaner Air
With less people moving around, the environment directly benefits and air pollution levels are extremely low in China. Researchers estimate that over 100,000 premature deaths in China might be avoided if the country's economy doesn't pick back up any time soon.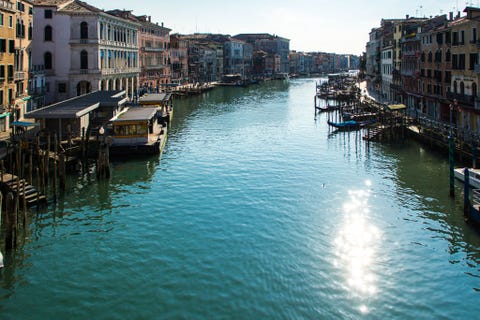 Clearer Water
For the first time in over 60 years, fish came back to the canals in Venice. Again, the effects of social distancing have led to an opportunity for Mother Nature to take a breather and come back better than ever before.
Putting Our Skills to Good Use
College kids may be bored at home, but not these 3. Just because they can't practice with their whole acapella group doesn't mean they can't have a little fun around the kitchen table.
Nice move from the NBA
Basketball players could be up in arms about not finishing their season, but instead, they're opening their hearts and their wallets to help out by donating thousands of dollars to stadium workers who are now out of work. Some, like Kevin Love of the Cleveland Cavaliers, have donated upwards of $100,000.
Following LVMH's Lead
For those of you who don't know, one of the world's largest fashion companies, LVMH (the parent company behind brands like Christian Dior & Fendi) has closed its perfume factories to make more hand sanitizer instead. Now, a ton of small beer and alcohol distilleries have followed suit to help keep stocks up for those who need it most, our doctors and nurses on the front lines.
Free Accommodation Across the Pond
Soccer star Gary Neville, famous in England for his sport but also ownership of a chain of hotels near Manchester has donated his properties to workers of the National Health Service for free of charge. This allows doctors/nurses comfortable accommodation away from their families.
Dance Parties across Italy
Italians love a good party, and being isolated doesn't stop them from grooving together. Old or young – it didn't matter out on their balconies last Friday night as Italians all danced along to La Bella Vita.
Sticking to Our Routines
Ending on a local funny note, with so many news sources telling us to stick to a routine and try to keep as much structure in our lives as we possibly can while, you know, sitting on our couch – this guy takes to TikTok to keep up with the classic New Yorker commuting uniform and stance.